Cooling System Maker Plans Expansion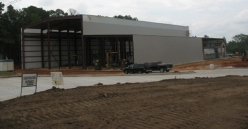 Source: Longview News Journal
Author: JO LEE FERGUSON
Date: Thursday, May 25, 2006
ETR Services hopes to triple number of workers
ETR Services plans to build a new 30,000-square-foot building in Longview and triple its employees.
ETR services is a division of East Texas Radiator—a more than 30-year-old company that services radiators for the oil, gas and mining industry. Owner Leroy Linseisen said that less than two years ago he established a new business segment—ETR Services—to build natural gas cooling packages for the natural gas production, pipeline and processing industries. The equipment helps keep compressed natural gas cool.
That manufacturing facility was built behind East Texas Radiator on Cotton Street, but it was too small almost from the moment it opened.
"The business grew a lot faster, and the demand was a lot greater than we assumed it would be," he said Wednesday when he addressed the Longview Economic Development Corp. board of directors.
The board later voted unanimously to provide the company up to $176,250 over three years for an investment of at least 2.14 million in the expansion and the employment of 75 people, said Executive Director John Stroud.
Linseisen said after Wednesday's meeting that before the manufacturing facility was built on Cotton Street, market research showed that the company initially would be making cooing systems with fans that were 32 to 48 inches in diameter, he said.
Instead, the company immediately landed a contract for a system so large "it eats up the whole middle of the shop," said Amy Calhoun, ETR's operations manager.
She attributed the company's success to the idea that a company that needs a cooling system locally would prefer to buy it locally and avoid paying shipping costs.
The new facility will be built on 23 1/2 acres Linseisen purchased at the southeast corner of U.S. 80 and Fisher Road. It will be 30,000 square feet, compared with 5,000 square feet at the current facility, Calhoun said.
ETR Services employs 20 people, se said. Another 20 people work at East Texas Radiator Services. She expects for ETR Services' total employment to grow to 75 within a couple of years after the new building is operational.
Linseisen said he expects the company will invest a total of $3.5 million in land, building and equipment at the new site. Work has begun at the site, and he expects construction to be complete in early spring 2007.
"Ninety-nine percent of all gas coolers in America are manufactured in Tulsa, Okla.," with the exception of those made in Longview, Linseisen told the economic development board. "We really intend to be a major player in that market."
East Texas Radiator will remain on Cotton Street and take over the manufacturing facility behind it when the new manufacturing facility opens, he said.