East Texas natural gas drilling falls along with prices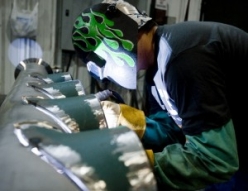 By Peggy L. Jones pljones@news-journal.com | Posted: Sunday, April 8, 2012 4:00 am
The East Texas energy business that boomed through the past decade may be beginning to tire.
Texas Railroad Commission data shows gas well production in Gregg, Harrison, Rusk and Panola counties declined significantly from January 2010 to January 2012.
Gas well production in Gregg County fell about 20 percent during the two-year period; Rusk County production declined 29 percent. Panola County production fell 19 percent.
Loyd Adams, Panola County Tax Appraisal District chief appraiser, said total mineral market valuations dropped about 13 percent from 2010 to 2011, from $4.07 billion to $3.39 billion. The county's total taxable values declined about 10 percent during that period.
The lagging gas well activity comes as natural gas prices falter, due in part to a milder-than-normal winter.
"There's simply no demand for natural gas right now," said Leroy Linseisen, president of East Texas Radiator and its sister company ETR Services, both of Longview. "We have an overabundance
of natural gas."
Reacting to market conditions, Chesapeake Energy, the nation's second-largest producer of natural gas, reduced dry gas drilling 50 percent during the first quarter of 2012, directly affecting
the area counties that lie within the Haynesville Shale formation.
Energy producers are shifting rigs and workers from East Texas to the Eagle Ford shale formation, which is rich in oil and gas reserves. The Eagle Ford Shale formation stretches from south-central
to southwest Texas, sprawling like a boomerang from Brazos County, skirting south of San Antonio to the Rio Grande River, west of Laredo.
Executive directors of the Longview Economic Development Corp. and Kilgore Economic Development Corp. confirmed oil companies are shifting crews and equipment to more lucrative locations but, they noted, many crews remain based in East Texas — particularly those working for companies that service the energy industry.
John Hargrave, business development director at Bass Engineering, said the shift in drilling from the Haynesville to other areas has not affected the Longview-based company negatively.
Bass Engineering provides corrosion protection expertise to the energy sector. Hargrave estimates 75 percent of the company's construction crews and technical services employees now work out
of town.
"We still base out of Longview," he said. "But we just have to go wherever they're putting pipes in the ground. We've been able to hold steady on our employment. We have to travel a little further sometimes than we want to, but that's the nature of the beast."
Data from the Texas Workforce Commission indicates that despite the drilling slowdown in East Texas, the area's employment in the oil and gas extraction sector was higher in the third quarter of 2011 than it was in 2009 or 2010.
Linseisen said that while many workers follow the rigs and the jobs, most area businesses that supply services to the oil and gas industry "are holding their own."
For example, he said East Texas Radiator and ETR Services are busier than ever. "We're hauling stuff back and forth down there," he said.
After decades in the business, Linseisen said, he knows slumps and booms are to be expected.
"The natural gas industry is down right now but definitely not out — at all," he said. "I've been here 40 years. It's not a new thing for the price to rise and fall. It always has."