Longview Firm Cools Down Energy Industry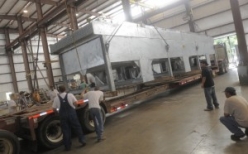 Sunday, August 28, 2011 4:00 am
By Mike Elswick melswick@news-journal.com
One of the latest shipments leaving Longview's ETR Transfer Services offers a good clue on how the firm's business is doing — it's growing in a big way.
In late July, ETR's crew loaded up and shipped the largest cooling system it has ever produced, according to Nathan Linseisen, vice president. The 36,000-pound heat exchange unit was headed to South Texas where it will provide cooling duties for an energy firm's facility near Three Rivers.
Sheldon Adcock, plant manager, said the shipment of the huge propane condenser represents one reason business is booming for the longestablished firm that specializes in cooling systems. "The majority of our business is tied to the natural gas industry," Adcock said last week.
The fact the natual gas industry is booming in Texas with major new discoveries of gas locked deep below the earth's surface in shale formations with names like the Haynesville, Barnett and Eagle Ford shale, has provided a boom for ETR Services, he said. Adcock, who joined the company this past November, said ETR has increased its employment level about 40 percent just since he's arrived on the scene.
"We've gone from about 20 employees to about 28 now — and we're looking for more," he said. Welders and general laborers are needed, Adcock said. "We've done a lot of work over in the Barnett Shale area by Fort Worth and a lot here in the Haynesville," he said. The best could be yet to come for ETR, Adcock said. "With the Eagle Ford (shale) in South Texas we expect to continue to grow," he said. Development of tapping into the energy sources in Eagle Ford are in their early stages. "And, we've picked up some international business," he said. ETR's units have gone to several locations in South America and Adcock said he expects the international market for the company's products and expertise to also continue to grow. "We have a good backlog of orders," said Adcock, who came from an industry energy background in West Texas before relocating to Longview in 2010.
About ETR
Leroy Linseisen is president of East Texas Radiator and its sister company ETR Services.
Those companies, which he founded, have been helping take the heat out of oil, gas and mining operations for nearly 40 years.
Linseisen's designing and manufacturing industrial cooling systems grew so much that he had to moved from a 5,000-square-foot building behind his shop to a 30,000-square-foot operation that designs and builds coolers. ETR moved to its present location just off of West Marshall Avenue at 100 Coolant Lane in 2007.
East Texas Radiator has been selling and servicing cooling systems since 1972. Its ETR Services division began designing and building such systems in the past decade.
Linseisen, in an earlier interview, said he recognized the need for locally manufactured cooling systems because no one in East Texas was making gas well-head compressor units. Most gas coolers are produced in Tulsa, Okla., with a few manufacturers in Houston.
"We started by servicing units. Then we realized there's a big demand for this in the energy industry today," he had said. Today, besides his son Nathan, who serves as vice president, another son, Bryon Linseisen is active in the company and serves as quality control inspector.
The bulk of ETR's customers are in the natural gas industry, which uses the Longview company's products in production, pipelines and in the actual processing plants.
The compressors are necessary when a natural gas well has ceased to flow freely, Linseisen said.
After the pressure of a self-producing well slows down, a compressor is fitted on to help get more gas from the well.